Access the Supervisor Library by clicking Libraries in the lefthand menu.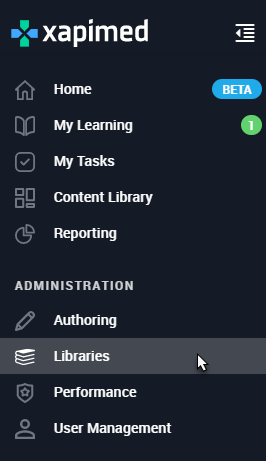 The Supervisor Library gives you a view of all of the topics you are managing in your Supervisor Library. From here you can:
Add a new topic
Archive topics
Apply filters to more easily locate topics in your list
Save sets of filters as a 'view' - this can be used to save time
Click on a topic to review the pathways cataloged within it

Clicking on a topic reveals a screen like the one below. In this case, the user has clicked on the 'Patient-centered care' Supervisor Library topic.

The only pathway in this 'Patient-centered care' topic is the 'Patient-centered Care: Improvement Guide' pathway, which appears as a tile at the bottom of this image. Additional pathways will also appear as tiles in a list view.
From this screen, there are a range of administrative tasks which you will be able to complete.
Pathways can be added to this topic with the +Add to Pathway button (1), or deleted with the small x (2).
Sharing permissions for this topic can be altered by clicking share to groups and changing the groups to which it is shared (3). Currently, this topic is shared with all users in the Supervisor group.
A description can be added by clicking the type description field (4), and a thumbnail can be uploaded by clicking the green thumbnail tile (5).
Article ID: xapimedE_20200110_2